Unity among dedicated communists is need of hour: Chair Dahal
---
---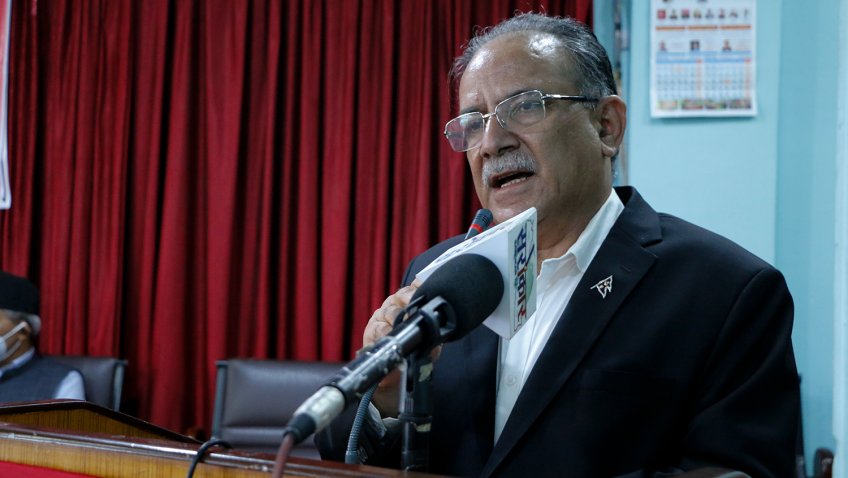 Kathmandu, 18th August : CPN (Maoist Centre) Chairperson, Pushpa Kamal Dahal 'Prachanda' has said that unity among honest communists was the need of hour. Addressing a programme organised at the party headquarters, Parisdanda, today on the occasion 27th Memorial Day of martyr Ram Briksh Yadav, Chair Dahal shared that the recently held central committee meeting of the party determined to rebuild the party.
As he said, there are complaints that the party had been deviated from the party norms and culture and self- evaluation and resolution is needed to address such complaints. He went on to say that individualism had become dominant in the party and dedication to the party ideology, principles, norms and values was the need of the hour.
According to him, the party is preparing to further amend and revise the party ideology by organising a national conference and making it more strengthened through a general convention. The CPN (Maoist Chair) expressed the view, "There is a possibility that we might be split and collapse if we fail to justify our presence.
But, we will not allow that to happen. We will fight till the last moment on the strength of contribution of martyrs." He remembered martyr Yadav as a multi-dynamic personality who as he said was open and clear in his ideology, dedicated to the principles and friendly to all.
Talking about the personality of Yadav, CPN (Maoist Centre) leader, Narayan Kaji Shrestha, said that contribution of martyr Yadav would always be remembered in communist movement. RSS