Bidari backs NCP's crumbling constitution amendment bid
---
---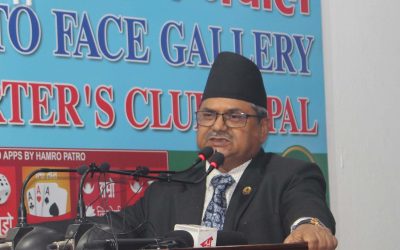 KATHMANDU, Feb 26: Nepal Communist Party leader Ram Narayan Bidari backed the party's plan of constitution amendment to license an upper house member to become the prime minister.
The ruling party has formed a three-member task force led by senior leader Madhav Kumar Nepal to explore the possibilities of constitution amendment so that Bam Dev Gautam, soon to be National Assembly member under president quota, could be a candidate for the post of head of the government.
Gautam, who had lost the 2017 parliamentary election, was proposed as NA member by a section of the party close of Executive Chair Pushpa Kamal Dahal 'Prachanda' making him eligible for the post of prime minister.
Article 76 of the Constitution of Nepal states that the President shall appoint the leader of a parliamentary party that commands a majority in the House of Representatives as the Prime Minister. A National Assembly could only be appointed as a minister or a deputy prime minister. 
"In several countries, the constitution allows the members of both upper and lower house to become a prime minister," said Bidari.
"The constitution is a changeable document," he added.
However, the party's bid of constitution amendment just to serve the interest of an individual politician or small portion of the party is in the brink collapse as two members of the task force Subash Nembang and Khimlal Devkota refused to be a part of the committee.
They have argued that amending the constitution to serve individual interest will invite serious damages in the long run.
Nepal had reached Baluwatar late Tuesday evening after Nembang and Devkota pulled out of the task force. 
The party standing committee also rejected the proposal outright, and the proposal has been taken to the party secretariat, where the majority of the nine members are in alignment with Dahal.
According to leader Raghuji Panta, none of the secretariat members had opposed the proposal to amend the constitution.
Also Read:
Power-hungry Bam Dev's personal interest frustrates party leaders