Nepal is a brother nation, says Indian Defense Minister Singh
---
---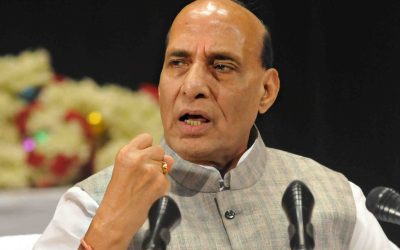 KATHMANDU, June 2: Nepal and India are brother nations and any disputes surfaced between the nations will be resolved through dialogues, said Defense Minister of India Rajnath Singh.
Singh's remark comes amid Nepal's preparation to amend the Schedule-3 of the Constitution of Nepal to update the revised Nepal map in the national emblem.
The diplomatic tensions between the two neighbors over the territories of Kalapani, Lipulekh and Limpiyadhura at the north-western frontier have heightened of late after India opened a link road to Mansarovar via Lipulekh. In response, Nepal, toughening its decade-long claims on its territory, on May 18 released its new administrative map incorporating these territories inside Nepali border that covers an area of 335 square kilometer area.
The demands for the New Nepal map had already raised six month ago when India published its new map placing these territories inside Indian border.
"Nepal and India are brother nations. Differences occur between the members of a family. We will definitely resolve the problem through talks," said Singh in an interview with News 18 India on Tuesday.
Nepal has consistently maintained that the territories east of Mahakali river including Limpiyadhura, Kalapani and Lipu Lekh belong to Nepal as per the 1816 Sugauli Treaty.
Nepal had also expressed disagreement toward the understanding reached between India and China to include Lipu Lekh, which lies inside the Nepali border, as a bilateral route without Nepal's consent during the Indian Prime Minister's visit to China on May 15, 2015.
The Ministry of Foreign Affairs of Nepal described the Indian move to open the link road as "unilateral act" and asked India to "refrain from carrying out any activity inside the territory of Nepal".
But, India claimed the road lies in Indian territory stating the road "follows the pre-existing route used by the pilgrims and the same road has been made pliable for the ease and convenience of pilgrims, locals and traders."
A week later, Indian Army Chief General Naravane said "Nepal might have raised the issues at the behest of someone else."
When inquired if Nepal released the New map at the direction of China, Singh said, "I don't want to make any accusation to Nepal here. Nepal is a brother to India, and India cannot risk breaking such close relationship.
"Like I said, there can be friction between brothers. We will sit for dialogue and definitely resolve the problems."
"No Indian people have hard feeling over Nepali people. And Nepali people also do have the same feeling. We share relation at people-to-people level. They are attached emotionally to each other.
India has said it "won't accept" the new Nepal map as it is "an artificial enlargement of territorial claims which are not based on historical facts and evidence".

Photo: Agency